Tornado Sink & Drain Cleaner
Tornado Drain Cleaner gets the job done by dissolving grease, hair, paper, soap scum, oils, and organic matter easily! 
It won't harm your drains, pipes or septic system, as it's made only from non-corrosive and non-caustic materials. It liquifies fats, oils, lint, paper, hair and other organic matter causing drain obstructions.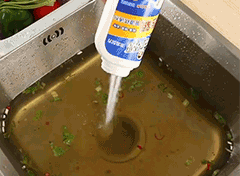 Using a high-density formula, our products stick to the walls of your pipes and alters the pH level to rapidly dissolve the obstruction.
Purchase Bizzoby`s Tornado Sink & Drain Cleaner for a very affordable price, save a fortune for yourself, and have a much cleaner house!
Drain Cleaner has the following product features:
How to use:
Add an appropriate amount of normal temperature water to the pipe mouth. If the water has been leached out of the pipe, there is no need to add water, only the water outside the nozzle can be removed.
Put the appropriate amount of this product (40g each time into the sink, 200g or more in the toilet and main pipe), pour into the pipe, and rush in with a large amount of water after five minutes (seriously block the recommended hot water) to the pipe
It can be operated repeatedly or waited for several hours without being dredged, and treated with leather tweezers (this product has a continuous effect on the severe blockage, wait patiently).
Size: 40 x 40 x 105 mm
Main Ingredients: Sodium Light Oxide, Sodium Silicate, Surfactant
Bottle Material: Plastic
Color: White
Package Includes: 1 x Drain Cleaner