New Cordless Zero Gapped Trimmer Hair Clipper
INSTRUCTIONS
Model: T8-B
Color: Black, Gradient, Gold, Silver
Power: 3W
Battery Capacity: 700mAh
Charge Time: 2 hours
Working Time: 120mins
Compatible with Andis slimline blade
Charge Input: 5V 1A
Size: 1.3 inch(L) * 5.9 inch(H)
 Luxury gradient version is now listing
WHY CHOOSE OUR HAIR TRIMMER?
T-Outliner skeleton cordless freedom and convenience
Multiple Trendy Hairstyles: Sharp blade,safe use without skin damage
Safety Sharp not stuck hair: R shaped sharp angle design,safe,sharp,wear- resistant
ON/OFF: One-button Start,usb charging
Strong Driving Force/Long Servince Life, Lithium-ion battery
Small boby and Easy to Clean: Sleek, Ergonomic design
Low Noise: Noise Reduction, Reduce noise interference
4 Guide Blades – 1.5mm, 3mm, 6mm and 9mm. With these limit combs, you can safely and evenly trim your hair into to the preferred length without fearing cutting your skin.
Close-cutting: carbon-steel T-blade for lining, designing and dry shaving – Zero gapped
Heavy hitter, extremely sharp edge up and lining, powerful and strong.
Easy to hold in hand this will be the only trimmer you will ever need in your arsenal.
New battery technology⚡: Single Lithium-ion Battery: High capacity lithium-ion battery will support for a long time usage per charge.
PACKAGE INCLUDES
1 x Hair Outliner Grooming Trimmer (With Box)
1 x USB cable
1 x Cleaning brush
1 x Adapter
1 x Shaving Lubricant
4 x Guide Comb (1.5/3/6/9mm)
WHAT'S IN THE GIFT BOX ?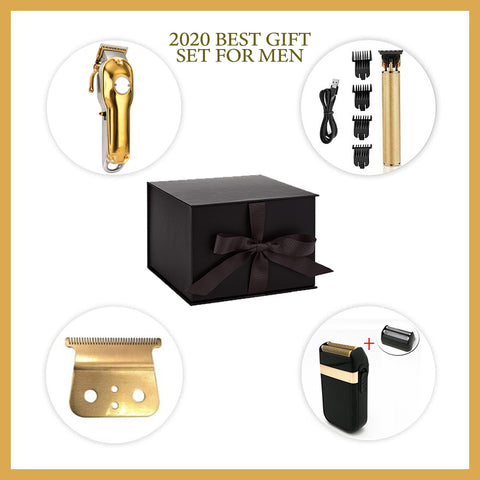 (GOLD) T9 Trimmer * 1 : Titanium blade, smooth and sharp blade, T-sharp blade to trim scalp or beard safely and quickly.
T-outliner blade * 1 : The T-Outliner Replacement Blade is made of carbon-steel for a dependable, long-life blade that stays sharp.
Profoil shaver * 1 : This high-performance shaver hugs the contours of the face with a cordless design for effortless use.For safe use with all skin types, including sensitive skin. A special staggered head design empowers a close, irritation-free shave. The versatile design can be used for removing stubble as well as putting the finishing touches on fade-style hair cuts, for added convenience.
The best anniversary clipper * 1 : Powerful motor that generates a higher blade speed for more cutting power.Ability to trim your beard and hair quickly and cleanly.
Accessory limit comb * 4 : With the 1-3mm limit comb, home users can also operate proficiently and easily cut hair at home.
Gift box * 1
Lubricant * 1
Brush * 1
USB charging cable * 1