Medifix Bunions Relief Cream
Enjoy Long Walks and Runs With Less Pain In your Feet!!
I have always had problems with my feet. I can't wear heels because of the pain and discomfort, but now I can finally go out and enjoy a night on the town without worrying about how my bunion is going to feel in the morning. I was skeptical at first, but when I applied it for the first time, the relief was instant. After a few weeks, I can tell you that this is one of the best decisions I have ever made! This Medifix Bunions Relief Cream changed my life!
Athena Saunders, 43, San Francisco, California
This is a super-cool product. I've tried so many different types of bunion relief products and none of them worked for me. They either did not give relief on my feet, or they weren't comfortable, and it was really complicated to use them. But this one? It's great! It's perfect for my foot, and it's so lightweight that I barely even felt I applied it. And best of all—it works! My bunions are a lot less  visible and painful now that I'm using this cream every day.
Clint Moore, 34, Las Vegas, Nevada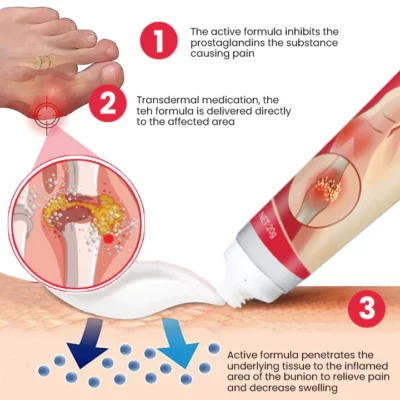 What causes bunions?
A bunion is a bump that forms on the outside of the big toe. This foot deformity occurs from years of pressure on the big toe joint (the metatarsophalangeal, or MTP, joint). Eventually, the toe joint gets out of alignment, and a bony bump forms.
Pressure from the way you walk (foot mechanics) or the shape of your foot (foot structure) causes your big toe to bend in toward the second toe. Bunions happen gradually over time. Standing for long periods and wearing ill-fitting, narrow shoes can make bunion pain worse.
What makes the Medifix Bunions Relief Cream effective?
Bunions require additional care and consideration in order to keep them comfortable. During the day they rub, swell, and become irritated often leading to blisters or bursitis. At night they often ache and throb from being on our feet all day.
Our Medifix Bunions Relief Cream provides relief and therapy for those painful lumps, giving you the best comfort you need all through the day! With years of research and studies, their group discovered natural ingredients that are known for their anti-inflammatory properties that are responsible for the improvement of circulation, skin healing, and moisturizing properties. 
Contains powerful ingredients:
Saffron

Mint

Notoginseng

Comfrey

Calendula

Sophora

Rehmannia glutinosa
Saffron
showed the highest wound healing activity and might be considered as a potential source of therapeutic agent for chronic wounds and their associated complications.
Mint
Mint leaves a soothing effect that effectively relieves pain, and swelling.
Notoginseng
It is an active anti-inflammatory herb, which effectively reduces swelling. That may be especially helpful for treating symptoms of both rheumatoid arthritis and bunions.
Comfrey
A number of studies have shown its function in clearing dampness-heat, reducing swelling, and relieving pain.
Calendula
It is known as an analgesic agent. Furthermore, borneol promotes healing conditions by increasing collagen generation throughout the skin
Sophora
It has anti-arthritis, antibacterial, cancer-protecting, and anti-inflammatory effects which effectively ease inflammation
Rehmannia glutinosa
Known to activate blood circulation and reduce blood stagnation due to deficiency
Expert's Opinion on Medifix Bunions Relief Cream:
Bunion sufferers are keenly aware of their feet. The most common request that we receive from our customers over the last 6 years has been for a bunion cream that can help people with their immediate bunion pain relief needs.
Dr. R. Desio, D.P.M says: "I have found Medifix Bunions Relief Cream to be a safe and effective treatment for bunion relief and I recommend it as part of an integrated post-operative program. I highly recommend relieving bunion pain associated with bunion deformities caused by disease and/or hereditary. Supportive clinical studies with Medifix's unique natural ingredients provide proof that it does work."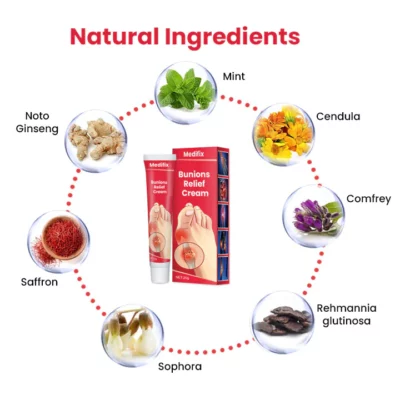 Medifix Bunions Relief Cream fantastic relieving and healing effect:
Medifix Bunions Relief Cream directly works on the surface of the skin; the active formula penetrates the underlying tissues to the inflamed area of the bunion to relieve pain and decrease swelling. 
 Highlights & benefits of Medifix Bunions Relief Cream
Proven to reduce acute pain within hours of application.

Realigns feet posture

Ease inflammation and swelling caused by a bunion

All-natural formula safe with no side effects
Here is Lila's bunion feet healing transformation with the help of the Medifix Bunions Relief Cream:
Week 1
I used to suffer from foot bunions because my previous job required long hours of standing and patrolling around an entire warehouse facility. Everytime I go home after a day's work, my feet often hurt and swell. Then my sister introduced this Medifix Bunions Relief Cream because she thinks my bunions are getting worse. The first week gave me a nice relief from applying this bunion cream.
Week 4
I am very surprised that consistent application of this Medifix Bunions Relief Cream for a few months is slowly correcting the bone structure of my feet especially in the big toe area. It also improves circulation so I am no longer in pain while walking or standing for long hours. The ball is also getting smaller and the other toes are starting to straighten out. I am excited to see more results.
Week 8
What a great improvement! My foot is almost back to its normal shape in just about two months, I am very excited. The pain and swelling is gone too and my feet also withstands pressure like when I was younger. I don't tire easily anymore, all thanks to this wonderful and effective cream!
Lila Evans, 45, Omaha, Nebraska
How to use?
Simply clean the affected skin with warm water
Take an appropriate amount of the bunion pain relief cream
Apply it to the affected area 2-3 times a day.