Crazy Cool Speaker with Ultimate Sound – 1000 Peak Watts
MULTIPOINT PAIRING— Multipoint pairing for use with Three devices at the same time.
Sci-fi Inspired Sphere Speaker
Bluetooth5.0
Powerful Sound
True Wireless Stereo
30h Battery Time
Made in USA
3000 Peak Watts
14Hz to 27kHz and 108 DB
OPTIMIZED FEATURES:Faster transfer speed, Further range, and Lower power consumption. The FUTURE TECHNOLOGY is equipped with the Qualcomm Qcc3006 chip and adopts Qualcomm\s Bluetooth wireless audio codec, improving its signal-to-noise ratio to minimize background noise. The listener will hear the tiniest of details in its music to provide realistic sound reproduced to sound like the musician's live performance.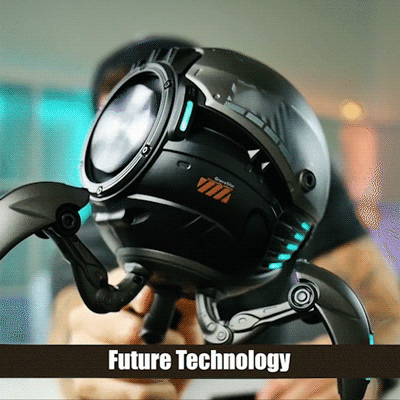 COOL FUTURISTIC DESIGN : The FUTURE TECHNOLOGY is more than just another Bluetooth speaker and reinvented the speaker design: tight, metal shell and sleek angles with built-in psychedelic lights, inspired by futuristic science fiction movies and games. Sci-fi inspired sphere, its alien-design turns your room into a scene of your favorite sci-fi movie while playing your favorite music.
HIGH PERFORMANCE : 3000 peak watts is enabled by 108 patents produces, a titanium tweeter offers an unparalleled frequency range of 14Hz to 27kHz and 108 DB.
TRUE WIRELESS STEREO:Equipped with the TWS Bluetooth V5.0 technology, two FUTURE TECHNOLOGY speakers could work together at the same time and enjoy true wireless surround sound without transmission delay. The broadcast audio system helps one Bluetooth source to stream audio to multiple speakers with virtually perfect synchronization.
EASY CONNECTION TO BLUETOOTHE : Immerse yourself in the powerful sound in games, music, movies and parties.